The 21st Amendment of the United States marked the repeal of prohibition, and symbolically represents our freedom as a nation to create and imbibe alcohol in any consumable form. 21st Amendment Brewery pays homage to this monumental event in our nation's history through their line of craft beers. Each series of beers are uniquely vibrant, both in taste and in the artwork that adorns the boxes and cans. Unique for craft beers, 21 beers are sold only in cans.This helps to seal the taste, defend the beers from ambient sunlight, and makes them perfect for outdoor summer events from barbecues and camping trips, to just going to the beach. I was introduced to 21st Amendment beer recently during a visit to Prince Frederick's Prime Wine and Spirits where they were hosting a beer and wine tasting. Of the beers I tried, 21st's Brew Free! or Die was by far my favorite, so I bought a six pack of that, and another six of another of their brand.
Brew Free! Or Die-
India Pale Ale 7% Alc./Vol.
Brew Free! or Die acts as if a light beer were infused with a variety of hops. It is a nice sipping beer, with a great full bodied and slightly bitter taste, that comes in moderately strong, then dies away quickly ending in a smooth finish with relatively no aftertaste. With it's 7% alcohol content and multitude of hops, Brew Free! or Die fills you up quick, and most certainly should be enjoyed slowly.
Back In Black-
Black India Pale Ale 6.8% Alc./Vol.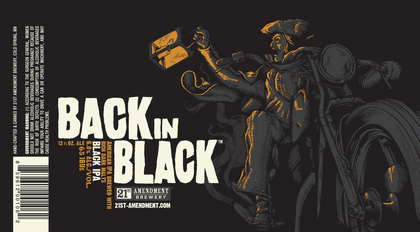 Back in Black is a darker, hoppier beer. It is incredibly stong and flavorful, but not overpowering. It goes down smooth, and sits on the tip of the tongue, not at the back of the throat. The taste is quite bitter, but not harsh, possessing an almost coffee-like after-taste. Back in Black is a welcome treat for those who enjoy a darker, more bitter beer, and works as a great introduction for those uninitiated.